The 2nd International Short Film Festival Psarokokalo will be held in Athens from 01 to 10 February 2008 at the screening hall of NIXON
The Anchorage International Film Festival is in its 7th year and is a program of Alaska Moving Image Preservation Association, a U.S. non-profit organization. AIFF's mission is to support and promote independent film and video artists while establishing a dynamic showcase of compelling films that provoke and entertain the imagination.
The second annual Show Off Your Short Film Festival will take place February 15-17th 2008. Jospeh Henry screens at 4PM Sunday February 17th.
October 10, 2007
This year's "Best Director" award was presented to Phil Allocco for his film "Joseph Henry" as well as a special feature of this yearÕs Film Festival "Best Script." Allocco's script for "Jospeh Henry" was selected by screenwriters; Richard Matheson, Craig Spector, Jack Ketchum and Preston Sturges Jr., who also presented the award.
The Director's Chair Film Festival, in its second year, is a true showcase for independent work, and this year featured writers and directors from both NY and LA to help spur indie projects.
"There's nothing better than to connect indie-lovers with indie-makers than with a free Film Festival," said Kimbra , of Skardykat Productions. "The Director's Chair Film Festival is fresh, fun and interactive, with live call-in during the telecast."
The Director's Chair Film Festival 2007 took place on October 4, 5, 6, and 7 at Staten Is- land Community Television, located 100 Cable Way, Staten Island, NY and aired live on Channel 57 for 26 hours across the weekend.
The Director's Chair Film Festival 2007 is presented by locatestock.com, produced by Skare- dykat Productions in conjunction with Staten Island Community Television and Kenneth Paul Media.
---
9.23.07
Interview with Phil Allocco on Spoiler Radio from RIIFF
September 23, 2007

Interview with Phil Allocco on Spoiler Radio. Click here for a podcast of the interview: http://bsrserv.bsrlive.com/spoileralert/2007/09/13/phil-allocco-joseph-henry/

TRT: 30min
---
8.20.07
Joseph Henry screens at the prestigious Palm Springs International Festival of Short Films
Palm Springs, CA – The Palm Springs International Festival of Short Films & Short Film Market, one of the best short film showcases in the World, is scheduled August 23-29, 2007 at the Camelot Theatres.
Now in its 13th year, the Palm Springs International Festival of Short Films has become known world-wide for the extraordinary community of filmmakers it attracts, and for the quality and scope of its programming. This celebrated event is the largest festival of its kind in America, showcasing over 300 short films each year from more than 40 countries, with a library of more than 2200 films available to film buyers, industry and press in the Film Market running concurrently with the Festival. Included are seminars, technological demonstrations and scheduled 'one-on-one' meetings with industry experts and filmmaking professionals, free to all filmmakers who participate in the Festival.
Jospeh Henry will be screening at Monday, August 27, 5:30 PM at the Camelot Theatres as part of the Crime Stories Program, always a favorite with audiences, this year's selection of short films dealing with high crimes and misdemeanors is, quite possibly, the most dazzling collection of shorts on the subject we've ever had the good fortune to play.
---
8.17.07
JOSEPH HENRY WINS AUDIENCE CHOICE AWARD AT THE HOLLYSHORTS FILM FESTIVAL
August 17, 2007 HOLLYWOOD
Written by: Naomi Wiggins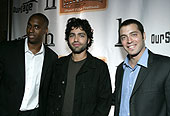 Daniel Sol, Adrian Grenier and Theo Dumont attend at the 3rd Annual HollyShorts Film Festival Opening Party

Just down the road from the Pantages Theatre and only doors away from after party venue vice, the 3rd Annual HollyShorts Short Film Festival celebration nestled itself nicely into the sprawling upper floor of Cinespace Digital SuperClub in Hollywood, California for its three day August run. With soft candlelight playing across booths and tables, festival goers tucked into endless food and drinks all the while relaxing into the darkness to watch the nearly sixty accepted short films dancing across the screen.

Kicking off on Friday, August 10, 2007, the HollyShorts Short Film Festival lit up Club Nacional with a line around the block and the Hollywood premiere of Entourage star Adrian Grenier's short film Euthanasia. Revolving around a tragedy that befalls two young girls driving on their own for the first time, the film is surprisingly dark and . . . surprisingly funny. As the first few minutes ticked by, the crowd stood in uncertain silence but one look at Grenier's face quickly told every festival-attendee they were indeed free to laugh.

The laughs just kept coming as the party rolled through the night and spilled over into Saturday, August 11th. Moving to Cinespace Digital SuperClub for the remainder of the festival run, thirty films screened in hour segments throughout the first full day of the festival. And while each selection was varied and unique, it was clear that every filmmaker had the same goal - to find a little nugget of truth and package it, as best they knew how, within the confines of an entertaining and aesthetically pleasing short.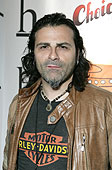 Director Phil Allocco attends at at the 3rd Annual HollyShorts Film Festival Opening Party

Standing out from the crowd with precise editing and stunning cinematography, the HollyShorts selection Joseph Henry snatched up the first award of the festival - Audience Choice. Through a broken and fragmented story line, the film outlines one man's journey through life, love and trials before coming to a subtle but eloquent end. Director Phil Allocco was expectedly thrilled with the warm reception and lead actor Andrew Ramiglia was on hand to bask in both the film's selection and success.

On Sunday, August 12th, day three of the HollyShorts Short Film Festival dawned and with it, nervous anticipation for the quickly approaching closing ceremony. But there was plenty of action left to enjoy before the trophy hand outs as thirty more shorts, enlightening Q & A's with filmmakers and Superpanels brimming with industry professionals traipsed their way across stage and screen.

After Stomping Grounds, the final film of the night, finished following legendary DJ Biz Markie through the neighborhoods of his home town and faded to black, Brandon Maxwell - Director of The Maxwell Multiple Climax, Dago Rodriguez - Director of Wilbur, Karen Dee Carpenter - Director of Sarah & Dee, Leah Meyerhoff - Director of Twitch, and David Branin - Director of Honey I'm Home took to the stage for a round of interrogation and questioning by HollyShorts host Viviana Vigil.

Several questions were directed towards Brandon Maxwell and his controversial experimental film The Maxwell Multiple Climax. Shot with the tone and pacing of an infomercial for men, the film goes step by step through a technique men can use in a quest to achieve multiple orgasms. Maxwell confessed to interested, laughing festival-attendees that the technique was indeed real and that DVDs could be bought online for only $19.95.

Moving the party next door to vice, the third annual HollyShorts Short Film Festival wound to a close with its much-anticipated awards ceremony. John Thompson's Songbird, a superbly rendered and visually stunning tale of a meek housewife who finds the courage to break free of her domineering husband, took home top honors with the Best Short Film award while Kohl Glass' epic and artistic Der Ostwind secured Best Student Film. With trophies, hugs and cries of "Congratulations" swirling through the crowd, Biz Markie himself took over and did what he does best - kept the party going all night long.

For further information on the HollyShorts Short Film festival, visit www.hollyshorts.com.
---
7.11.07
JOSEPH HENRY SCREENING AT THE HOLLYSHORTS & RHODE ISLAND FILM FESTIVALS
JOSEPH HENRY TO SCREEN AT THE HOLLYSHORTS FILM FESTIVAL
July 11, 2007 HOLLYWOOD, CA-The organizers of HollyShorts (www.hollyshorts.com) announced the acclaimed short film JOSEPH HENRY will be among the 60 short films showcased at the 3rd annual HollyShorts Film Festival, which takes place August 10-12 in Hollywood. JOSEPH HENRY will screen on SATURDAY AUGUST 11 3:30PM The festival takes place at Cinespace: Digital Super Club and Lounge in Hollywood (6356 Hollywood Blvd). Lunch reservations are recommended (323.817.FILM). For the complete list of selected shorts and program, please visit www.hollyshorts.com.
HollyShorts, Short Film Festival is an annual short film festival showcasing the best and brightest short films from around the globe. HollyShorts is devoted to the advancement filmmakers through screenings, Q&A sessions and networking events. The HollyShorts, Short Film festival showcases the top short films produced 30-minutes or less. For more information, please visit www.hollyshorts.com.
JOSEPH HENRY TO SCREEN AT THE 11TH ANNUAL RHODE ISLAND INTERNATIONAL FILM FESTIVAL
Now in its Eleventh Year, the Rhode Island International Film Festivalª, (RIIFF) will take place August 7-12, 2007. Ranked as a one of the Top 12 Film Festivals in the United States, this world-class festival will be held at venues around Providence. It features screenings, filmmaking workshops, meet-and-greet industry events and seminars. Aiming to promote Rhode Island as a filmmaking location and to celebrate the independent filmmaking spirit, RIIFF also hosts a number of high-profile premires and provides a showcase for international features, documentaries, and shorts. This year the festival received over 2,000 film submissions.
The Rhode Island International Film Festival is an official Academy Award qualifier for the short film category. Of over 1,950 festivals worldwide, only 47 share this distinction.
"One of the top 10 Short Film Festivals and Top 10 International Film Festivals in the United States. The RIIFF provides the kind of intimate festival experience that will change your life. Don't miss it." Chris Gore, author of The Ultimate Film Festival Survival Guide, 2nd edition (December 2004)
---
6.25.07
Joseph Henry wins "Best Cinematography" at the Staten Island Film Festival
STATEN ISLAND, N.Y. -- A gala awards ceremony. A luxurious evening boat ride aboard the Staten Island Ferry. A spectacular sunset fireworks display in New York Harbor with Lady Liberty as the backdrop.
With a touch of elegance andd romance, the curtain last night came down on the second annual Staten Island Film Festival. The exhilarating five-day event unspooled 114 films in nine venues throughout the borough.
---
5.21.07
Phil is one of the 50 finalist picked by Steven Spielberg for his first TV series in over 20 years - "On The Lot" on Fox, produced by Spielberg and Mark Burnett.
---
5.8.07


Joseph Henry WINS Best of Category at the Damah Film Festival and WINS the Special Jury Award at the USA Film Festival. Jospeh Henry was also just accepted to the The Provincetown International Film Festival

Here are some photo's from the Damah Film Festival at Culver Studio in LA.

Andrew Ramaglia, Phil Allocco, Steve Carr
& Clyde Taber
Best of Damah Awards & Reception
Best of Damah Awards & Reception
---
5.1.07
Joseph Henry WINS 2nd place:
---
4.15.07
Joseph Henry has just been nominated for "Best Film" and "Best of Catagory "at the:
---
3.17.07
Joseph Henry will be screening at the following film festivals:
---
9.28.06
We are having a private screening for cast, crew and friends in NY on Fri. Oct. 27th 7:15pm at Tribeca Screening Room 375 Greenwich St. New York, NY 10013 [P] 212.941.2000 For Directions go to: http://www.tribecafilm.com/directions.html

Please join us after the screening at YAFFA'S TEA ROOM 19 Harrison St. - off Greenwich (212) 274-9403 (1 block south of the screening room)
Please RSVP by email or call 212.367.7100
---
5.24.06
We have finally finished the film! We went through about 40 versions to arrive at our final cut. We mixed with Mattias Murhagen at Randy Lee's studio "limebeat." We finished onlining last week at "Sony Music Studios" with our online editor Eli Tishberg. The final film is on HD and looks amazing!

We are having a private screening in LA on Thurs. June 1st 7-9pm at The Wilshire Screening Room 8670 Wilshire Blvd., Suite 112 Between Robertson Blvd. and La Cienega Blvd. Beverly Hills, CA, 90211 Phone: (310) 659-3875 www.studioscreenings.com

We will also be having a private screening for cast and crew in NY later this summer.
---
12.03.05
We just finished transferring the footage to edit and posted some low res stills from the session. And now that we've seen it all I am happy to say there are no unexpected technical disasters at this point. The footage has really exceeded my expectations and I really feel blessed to have worked with so many talented, committed people. We will be organizing footage and probably begin the edit mid December. We has also begun developing the score.

I want to thank everyone who worked so hard on this shoot! You should all be very proud of your efforts!!!


Home | See The Film | Synopsis | Script | Photos | News | Screenings
Storyboards | Locations | Credits | Cast | Contact

©2001, ©2006 Phil Allocco. All Rights Reserved.